This page is very under construction. The goal is to make it a single reference point for all Condor activities of the club: flying cross country, using the simulator.
If you're just beginning and wondering what is needed to run Condor, check here for a sample list.

Our current Scenery was revised on 3/23/23 (you must install this new version to be compatible with XC flying) – download new hhsc–xc1 (version 3).

How to install a new landscape – Installing your first custom landscape can be confusing.  This takes you thru the process step-by-step.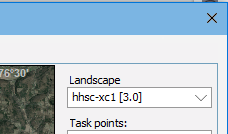 You'll know you've installed the update properly if you see "[3.0]" in the flight planner.
Condor Keyboard Shortcuts – One page, very handy next to your monitor.